Austin Convention Center Utilities ONLINE Ordering
click online ordering then click "go to store" to login


Services Provided:


Electrical
Internet and Technical Services
Telephone
Water
Drainage
The discount rate deadline is 12/21/2022. Standard rate deadline is 12/31/22 and the floor rate starts on 1/1/23. More information can be found in the Exhibitor Services Information Packet.
Please contact Exhibitor Services 512.404.4000 if you have any questions regarding services or ordering procedures.


Temporary Food Permit
Any exhibitor wanting to sample at the show must be approved by both Show Management and the Venue first. A Sampling Form and a Food & Beverage Permit application must be completed and sent to LucyF@mpeshows.com. The permit fee of $114 is due upon application submission. Contact Lucy for payment 816.601.2706.

MOVE-IN HOURS:
Wednesday, January 4: 8:00 am - 7:00 pm
Thursday, January 5: 8:00 am - 7:00 pm
No vehicles after 2:00 pm Thursday (hand-carry or cart only)

Friday, January 6: 8:00 am - 10:00 am
SHOW HOURS:
Friday, January 6: Noon - 8:00 pm
Saturday, January 7: 10:00 am - 8:00 pm
Sunday, January 8: 11:00 am - 6:00 pm
MOVE-OUT HOURS:
Sunday, January 8: 6:00 pm - 9:00 pm

Monday, January 9: 8:00 am - Noon
No vehicles will be allowed to drive into the building prior to 8pm unless the aisle carpet is rolled up. If you can hand carry and cart out in that time frame, please do so. Once the aisle carpet is rolled up drive in can begin.
All move-in and move-out of exhibits must be through the service yard – the designated loading dock, freight elevators and freight doors. The lobby areas, side doors, escalators and passenger elevators are not to be used for this purpose.
Exhibitors enter through the North Gate and exit through the South Gate.
Once in the Service Yard, exhibitors can use the Access Ramp to enter the show in Halls 1-3. Guards will be present to direct exhibitors where to go.
Loading Dock access is available through Ramp A. Guards will direct exhibitors on when to enter and exit the ramp for one way access. A hand carry option is available through Ramp B.
The Service Yard can be accessed from Red River Street. Click here
Yard Service Map
for a map of the Service Yard.
PARKING
2nd St. Parking Garage
201 East 2nd Street
10-story, 1,000-space garage just two blocks west of the facility.
Entrances on Brazos and San Jacinto
Clearance Height: 6'9"

5th Street Parking Garage
601 East 5th Street
5-story, 685-space garage just north of the facility
Entrance on 5th Street
Clearance Height: 6'11"

Additional Parking Options
Premier Parking (surface lot)
705 Trinity St. – 7 minute walk (.3 mi)

One American Center
155 W 7th St. – 11 minute walk (.5 mi.)

Premier Parking (surface lot)
617 Colorado St. – 13 minute walk (.6 mi.)

Metropolitan Parking – Lavaca Garage
306 W 8th St. – 18 minute walk (.8 mi)

Metropolitan Parking (surface lot)
1010 Lavaca St. – 20 minute walk (.9 mi.)

Metrorail
Capital Metro's MetroRail stops right next to the Austin Convention Center. Click HERE for the MetroRail schedule.
Park ATX App
Paying for parking is easy and convenient with the Park ATX mobile app. You can pay, extend and manage your parking session remotely with just a few taps. People can use up to two free 15-minute parking sessions every 24 hours through the Park ATX app.
Use validation codes FREE15ATX1 and FREE15ATX2. These codes cannot be used for the same session, and additional time past 15 minutes will be considered a typical parking session that will charge fees. New users may need a minimum wallet amount to start.

SpotHero App
SpotHero is the nation's leading parking reservation app to book convenient and affordable parking, whether it's for an event, commute to work or even airport parking. Reserve your parking in advance and get there on time, stress free! Click HERE to reserve your parking spot for the show!

SHUTTLE SERVICE
Two complimentary shuttles will be offered for patrons of the show. You can park for free at the Barton Creek Mall (JC Penney parking lot) and the free shuttles will be making continuous roundtrips to/from the Austin Convention Center. Shuttle times are as follows:

Friday, January 6: 12 pm - 5pm (last shuttle from Convention Center at 4:30 pm)

Saturday, January 7: 10 am - 4 pm (last shuttle from Convention Center at 3:30 pm)

Sunday, January 8: 11 am - 4 pm (last shuttle from Convention Center at 3:30 pm)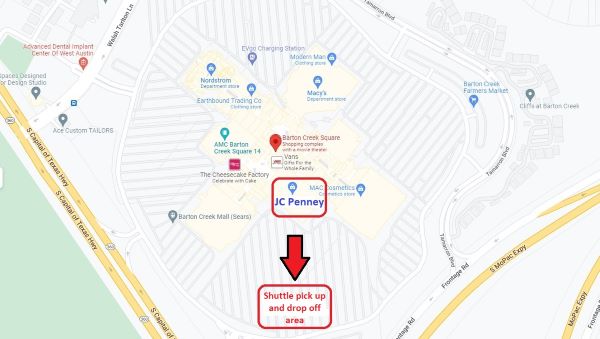 Preferred Partner Hotel
HYATT PLACE AUSTIN/ DOWNTOWN
211 East 3rd Street, Austin Texas 78701, USA
Deadline for discounted rate is December 23, 2022
Guests can call 1-855-556-1272 for reservations or call the hotel directly at 512-476-4440 and use the group code GS23 or mention the group name AUSTIN HOME & GARDEN SHOW 2023 to book.
Guests can also follow the web link below:
https://www.hyatt.com/en-US/hotel/texas/hyatt-place-austin-downtown/auszd?corp_id=G-GS23
This link will take you directly to the booking page. Just select the dates of your stay and the discounted rate will appear pre-loaded for you!



WARNING: SCAM ALERT for EXHIBITORS

As per our privacy policy, Marketplace Events is a permission-based email sender. We do not share, rent, or sell any email lists.

There have been a number of spam emails offering our attendee lists. These are scams and the senders are unauthorized to use the Marketplace Events' name. These scammers are attempting to receive monies from exhibiting companies without providing anything in return. These emails are not approved by Marketplace Events, and Marketplace Events would never ask for bank information or other sensitive information over email.

Click here for more information.
ENHANCE YOUR COMPANY'S ONLINE EXHIBITOR LISTING
Your basic listing will be uploaded to the website when you book your booth. Within 24 hours you will receive an automated email to enhance your listing. This link can be used multiple times and you can make updates and changes to your listing until ONE day after the show commences. If you have any questions regarding the online exhibitor listing or do not receive the link, please email our digital support rep, JenK@mpeshows.com.
Need help with your listing? Read the FAQs.
Learn more about the benefits of creating your enhanced listing.
Go from basic to ENHANCED!
SOCIAL MEDIA
#LetsGetSocial
Share your show pics or your home reno projects with us.
Hashtags: #AustinHomeShow #TexasHomeShows

In efforts to protect potential joint customers from fraudulent events and scammers, we request that you do not create your own Facebook Event. This helps us manage ticket sales for the event, and ensures that our team are available to support both exhibitors and potential attendees with any questions, comments, or concerns that they have. Please feel free to reach out to your show manager or show marketing manager with your companies' Facebook page and we can add you as a co-host to the official event.
Click Here to go to our Facebook Event for 2023.
Click Here for the Social Media Marketing Kit
Contact Us
Sarah Edwards
Sales Consultant
SarahE@mpeshows.com
512.813.5341
Lucy Ferguson
Show Coordinator
LucyF@mpeshows.com
816.601.2706
Lindsey Reinarz
Operations Coordinator
LindseyR@mpeshows.com
801.456.7482

Dave Maughan
Show Manager
DaveM@mpeshows.com
801.456.7483